Faulty Apprentice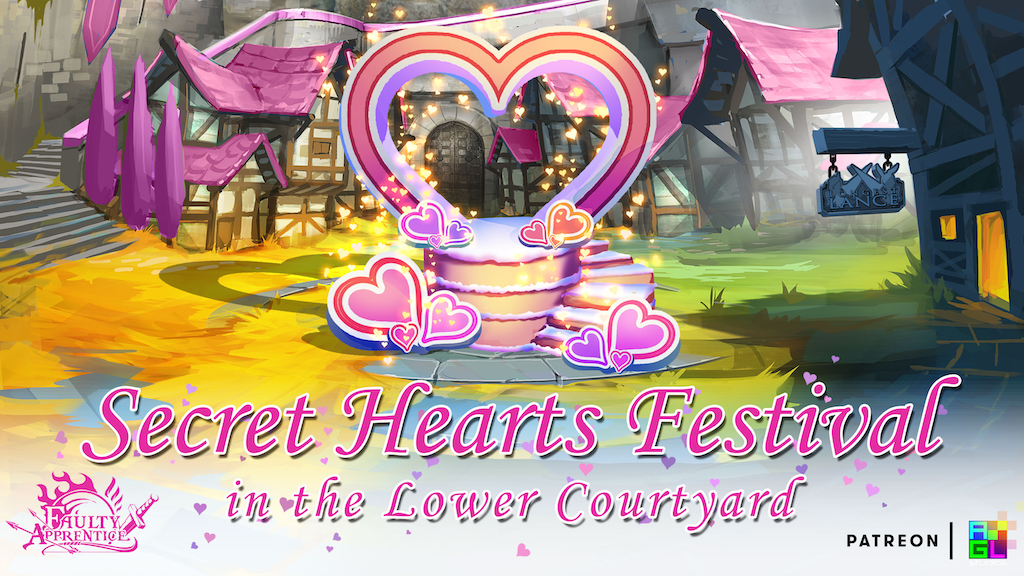 "If you stand under the heart and close your eyes, you'll be met with a kiss from your Secret Heart."

For longer than anyone can remember, Stars Reach has brought warmth and love into the coldest season of the year by celebrating the Secret Hearts Festival. At the center of the celebrations is pedestal placed in the Lower Courtyard, upon which sits the famous heart-shaped arch. Usually, the Lower Courtyard would be filled with booths, games, food, and merchants selling themed items to a multitude of attendees. This year, however, the castle is practically empty due to the evacuation, and the Commander had even considered canceling the event altogether for not having any spare guards to help set up. But as you probably guessed, Princess Priscilla would have none of it-- the Secret Hearts Festival is her favorite event of the year! She took it on her own to order Sir Quintus to place the heart arch in the Courtyard himself, and decided that if they can't have the usual decorations, she'd at least have him paint all the roofs in the castle pink!

As the name of the festival implies, the Secret Hearts Festival places an emphasis on secret admirers, known as Secret Hearts. According to legend, "if you stand under the heart and close your eyes, you'll be met with a kiss from your Secret Heart." Traditionally, you are supposed to keep your eyes closed afterward so that your Secret Heart remains secret. Some say this keeps a certain element of mystery to it. Others argue that the secrecy encourages your Secret Heart to come kiss you; they've likely stayed secret for a reason, after all. Many believe that opening your eyes will bring bad luck to any potential relationship between you and your Secret Heart. And a few believe all of this started out as a prank to get someone waiting in the freezing cold at night but then spiraled horribly out of control.
Are you brave enough to stand under the heart and close your eyes? The only way to find out is to join the Secret Hearts Festival Event!
The Secret Hearts Festival is a limited time in-game event exclusive to Patreon starting Feb.5th and going through to the 19th.
Thank you for playing Faulty Apprentice! We invite you to continue the adventure with us on Patreon!
Files
FaultyApprenticeCh1_v1.0.2_win.zip
828 MB
Jan 31, 2019
FaultyApprenticeCh1_v1.0.2_mac.app.zip
835 MB
Jan 31, 2019
FaultyApprenticeCh1_v1.0.3_mac.app.zip
835 MB
Jan 31, 2019
FaultyApprenticeCh1_v1.0.3_win.zip
828 MB
Jan 31, 2019